Online Education Programs
Your future. Our promise.
Request Information
Complete this form to receive information about coursework, admissions, tuition, and more.
AU Online provides unmatched support and instruction for today's educators.
Aurora University is an inclusive community dedicated to the transformative power of learning. Our online education programs provide the skills you need while offering the personal attention you need to achieve your unique career goals. No matter where you are in your career, you'll find a supportive community of committed educators and administrators ready to help you achieve your dreams.
More than 85% of our faculty members hold the highest degree in their fields.
Our programs are ISBE approved and align with Illinois Professional Teaching Standards.
The Higher Learning Commission accredits Aurora University at the bachelor's, master's, and doctoral levels.
Choose the education program that will help you meet your goals.
Find the online education program that prepares you to advance your career.
Online
36 total credits
2-year duration
This program has an extensive history of preparing principals for leadership positions. The courses impart leadership and administration abilities by exploring fiscal management, organization, supervision techniques, and other relevant topics.
Online + residency
60 total credits
3-year duration
With this immersive online program, aspiring thought leaders can become authorities in education. Dedicated faculty teach courses offering academic rigor, practical application, and current research to help professionals take the next step in their careers. Students can choose from four program strands to focus on their educational leadership goals.
Online + internship
30 total credits
2-year duration
This program offers 13 ISBE-approved courses with 31 semester courses and internships. The credits earned in this program can apply to the EdD Leadership in Educational Administration degree.
Online
15 total credits
1-year duration
Aurora University designed this program for students who have earned a Master of Social Work degree and plan to specialize their skills in a school setting. The coursework explores key topics in social work policy, exceptional children, and reading content, and includes field instruction.
Online
18 total credits
1-year duration
This program provides a strong knowledge base to work effectively with students who exhibit a range of disabilities. Educators will demonstrate the skills necessary to meet Illinois Professional Teaching Standards, as well as the Council for Exceptional Children Professional Teaching Standards, Illinois Culturally Responsive Teaching and Leading Standards, Illinois SEL Standards, and INTASC Standards.
Aurora University Online has a strong tradition of serving students with a quality education rooted in the foundational principles of academic excellence. AU Online strives to make college affordable for students while designing degree programs around quality curricula to foster career success.
Request Info
Your Education is More Flexible and Affordable
Higher education is now more accessible with Aurora University Online. As a student, you will utilize a convenient learning platform that puts the path to a degree at your fingertips. Because AU Online uses open educational resources (OER) in some programs, you can benefit from significant savings on textbook costs.
Our comprehensive, engaging curriculum meets rigorous standards.
When you choose an online education program at Aurora University, you will benefit from an interactive learning environment offering a comprehensive curriculum. Students can engage classmates through online discussion, exchanging ideas and experiences to enrich their education.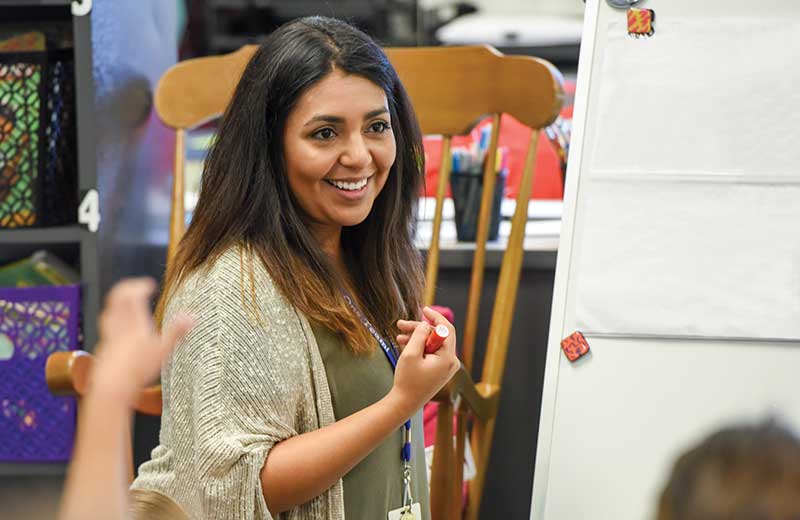 Prepare to make a difference with your education degree.
When you work in education, you must continue to improve your skills to best serve your community and students. In our programs, you'll network with people from other schools, learning from their experience and making lifelong connections. Our graduates thrive in many impactful education careers.
Explore dynamic education careers.
Behavior Specialist
Curriculum Director
College or University Faculty Member
K–12 School District Leader
Principal
Special Education Teacher
Superintendent