Online Doctor of Education Programs
Your future. Our promise.
Request Information
Complete this form to receive information about coursework, admissions, tuition, and more.
Pursue an Affordable, Accessible Online EdD
Aurora University invites aspiring thought leaders to become authorities in education by earning a Doctor of Education in a flexible format. This immersive online program combines academic rigor, practical application, and current research to prepare you for the next step in your career.
The online nature of this program assists with balancing your work, life, and academic commitments. Moreover, the dedicated faculty and rigorous curriculum will equip you with the knowledge base and confidence to become a leader in education.
Launch your career as an advocate for student learning and teacher excellence. Fill out the form to get started.
More than 85% of AU faculty members hold the highest degree in their fields.
Aurora University students have a dissertation completion rate of 70 to 80%, surpassing the national average.
Connect with professors and peers in AU's tight-knit community to build lasting relationships.
Choose From Four Program Strand Options
Aurora University structured each strand for working teachers who strive to take leadership roles in various educational contexts.
This strand is designed for teachers, curriculum instruction educators, and principals ready to become curriculum directors and teacher educators. The topics include teacher development, program evaluation, data analysis for school improvement, and instructional practices.
This strand is designed for educational leaders who want to become a superintendent or hold other top positions in school districts. You'll study topics such as curriculum and assessment for all levels of education and types of students, law, coaching and mentoring, research, and data analysis. Completing the ISBE-approved coursework allows you to earn the superintendent's endorsement.
This strand is designed for administrators who already hold an Illinois Superintendent Endorsement and are ready to advance their careers in K–12 school district leadership. As an advanced standing program, this option allows you to complete your degree in as little as two years by transferring previously earned credits.
This strand of the online Doctor of Education program is designed for educators who have completed a master's degree in educational leadership and hold an active Illinois principal endorsement. Students in the program will graduate with the credential to pursue upper-administrative roles such as assistant superintendent and director.
If the full doctoral program is not for you at this time, you can enroll in AU's Superintendent Endorsement program. You'll take 10 ISBE-approved courses and complete the program with 30 hours of research-based coursework, dissertation hours, and internships. Credits can apply to the EdD Leadership in Educational Administration degree if you decide to pursue it at a later point.
Aurora University Online has a strong tradition of serving students with a quality education rooted in the foundational principles of academic excellence. AU Online strives to make college affordable for students while designing degree programs around quality curricula to foster career success.
Request Info
Your Education is More Flexible and Affordable
Higher education is now more accessible with Aurora University Online. As a student, you will utilize a convenient learning platform that puts the path to a degree at your fingertips.
Shape the Landscape of Education
With Aurora University's online EdD program, expert faculty with experience in education teach each class. The curriculum focuses on theory and practice for becoming a thought leader capable of implementing meaningful change in education. Students publish and offer an oral defense of a final dissertation on an approved topic and gain hands-on experience by completing an internship at their current workplace. To enhance the learning experience, students can attend an optional writing retreat during this program.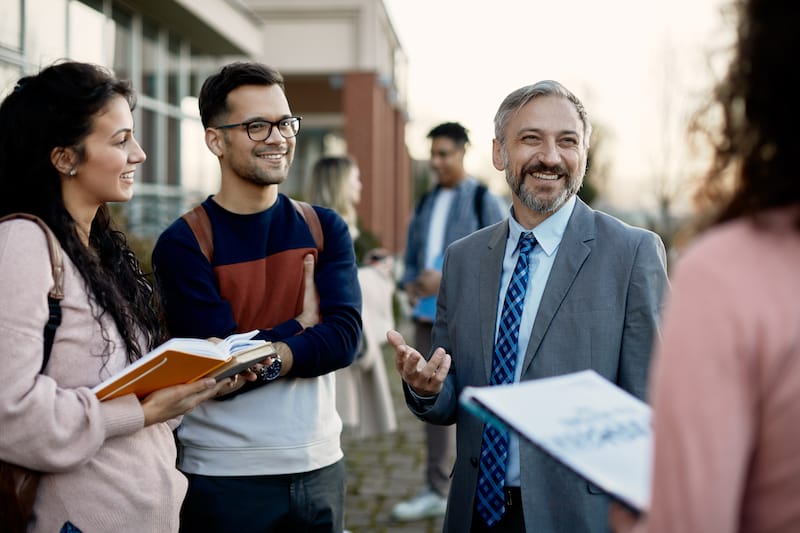 Qualify for Leadership Roles in All Facets of Education
While seeking an EdD online, professionals can prepare for leadership positions across education, from K-12 school districts to higher education institutions. Students interested in postsecondary education administration roles can benefit from rising employment growth during the next 10 years and a median annual salary of $96,910.1
Rewarding Education Leadership Roles
College and university administrator
College and university faculty member
Curriculum director
Educational consultant
Instructional coach
K–12 school district leader
Student affairs director
Superintendent
Accreditation
Aurora University is a participant in the National Council for State Authorization Reciprocity Agreements initiative.
Aurora University is regionally accredited by the Higher Learning Commission to grant bachelor's, master's, and doctoral degrees.
Sources
U.S. Bureau of Labor Statistics. "Postsecondary Education Administrators." Retrieved October 24, 2022, from https://www.bls.gov/.